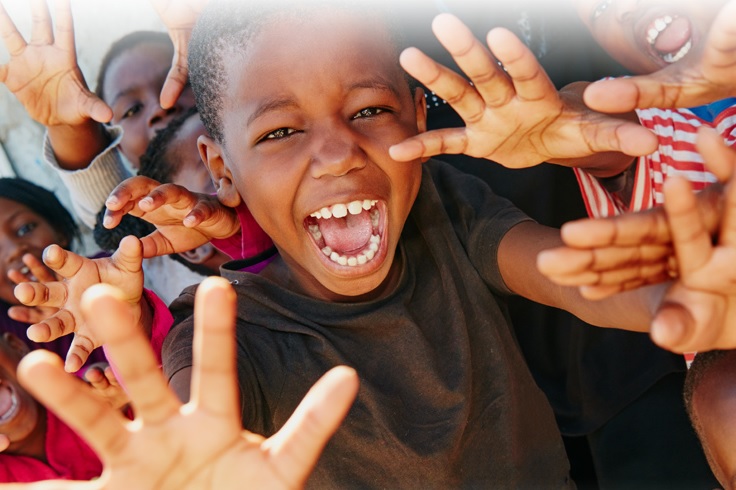 What We Do
Dignity and respect are simple human gifts. We believe they belong to everyone.
Since 1976, we've worked to strengthen children, families and communities across the state of Michigan. Our assistance directly addresses the challenges SHS users face, including:
Assessment and diagnostic services
Family preservation
Foster care and adoption
Independent and assisted living programs
Juvenile treatment and detention
Short and long-term residential programs
Small group living and outpatient mental health treatment
Substance abuse prevention and treatment services
Workforce development
Each day, more than 1,450 children, teens and adults who deal with mental, physical, emotional and/or behavioral challenges find help in a Spectrum program. And, we are gratified they do.
Affiliations
Commission on Accreditation of Rehabilitation Facilities

Mission and Vision
Our mission
Empower, strengthen and enhance individuals, families and communities.

Our vision
To be the center of excellence for innovative and progressive human services, designed to address the changing needs of the people in our communities.
History
On Friday, February 13, 1976 James Minder and Susan Davis launched Pyramid Human Services by opening the "Quincy Home", a 12-bed group home for developmentally challenged boys in northwest Detroit. Jim and Susan believed – everyone is entitled to dignity and respect, and their mission to empower individuals, strengthen families and enhance communities is the foundation of everything we are and represent today.

Quincy provided the opportunity for discovery and the opening of a second home. The Durham Center in Detroit, focused on helping abused, neglected and delinquent teens.

Simultaneously, we began opening group homes for developmentally disabled adults in Washtenaw and Wayne Counties. During the late 1970s and early 1980s, many state institutions for the developmentally disabled closed their doors, creating a huge need for the community group homes that Spectrum provided.

As we grew, Mr. Minder saw the need for complete continuum of care and aftercare. The Independent Living and in-home programs that are offered today by Spectrum Child & Family Services arose from that need.

In 1980, Pyramid became Michigan Human Services, and in 1988 became Spectrum Human Services, Inc., to avoid confusion with other organizations.

In 1983, Spectrum became the first agency to provide comprehensive in-home services for delinquent youth in Wayne County, through the Milestones program. The program, which served up to 150 youth at a time, was part of a research study that cited better outcomes for youth participating in community-based programs rather than residential care. Adjudicated youth coming through the Wayne County Juvenile Court were diverted to the Milestones program, rather than going to a residential center. Spectrum Human Services established its Adoption program in 1985, in response to the requests of many of our foster parents who wanted to adopt their foster kids.

Milestones: In our first ten years, Spectrum Human Services, Inc. was the first organization to:
Take profoundly mentally ill adolescents from an institution and move them into a residential setting
Provide in-home care program for delinquent youth
Provide a team of professional social workers and therapists to offer support to foster care parents. Staff members provided individual therapy to assist parents, as they coped with severely emotional children.
With Spectrum's overwhelming desire to provide quality services to the mentally and physically challenged population and the need for services, this movement opened a floodgate of options and possibilities. Spectrum's driving force was to provide dignity and respect to those that had been institutionalized and forgotten. The program delivery was targeted to children and adults. So Spectrum Human Services divided its forces into child welfare and community integration, while challenging staff members to become experts and champions for the critically underserved. We are proud to have nearly 1,400 "experts and champions" working for Spectrum Human Services, Inc. & Affiliated Companies.

Today, Spectrum Human Services, Inc. provides a formidable continuum of care with 45 programs and services across the state of Michigan. Our five affiliated companies Spectrum Child & Family Services, Spectrum Community Services, Spectrum Juvenile Justice Services, Primacare, and Operation ABLE of Michigan serve 1,450 children, families and individuals each day throughout the state.
From the CEO
Hello, As the President & CEO of Spectrum Human Services, Inc. & Affiliated Companies, I thank you for taking the time to learn more about our programs and services. As the 13th largest human service organization in southeast Michigan, we are proud to serve over 1,450 individuals each day.

Everything we do is driven by our belief that all people are entitled to dignity and respect and have the right to receive services that support them in achieving their highest potential. It is because of this belief that we have been successful in our mission to deliver exceptional child welfare, family preservation and mental health services.

Each day, we work to ensure the best opportunities are available to clients we serve throughout the state of Michigan. I want to thank our employees, board members, volunteers and donors for their continuing commitment and support.

If you have questions or need additional information, please feel free to call our corporate offices at (734) 458-8736.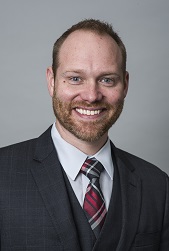 Joshua J. Swaninger
President & CEO
Meet Our Team
Joshua J. Swaninger
President and CEO
Spectrum Human Services, Inc. & Affiliated Companies
---
Kari Klinski, MA
Vice President
Governmental & Community Relations


Donald A. Fields, MSHROD, SPHR, SCP
Vice President
Human Resources and Training

Mary McDougall, Ph.D., LPC
Division Director
Operation ABLE of Michigan


Richard Rizzo, Ph.D., LP
President
Primacare, LLC


Rachel Janiga
Chief Financial Officer


Nancy G. Calleja, Ph.D., LPC
Clinical Director


Stacie Bowens, MSW
Executive Director
Spectrum Child & Family Services
Sharon Blain, MBA
Executive Director
Spectrum Community Services

Derrick R. McCree , MSW
Executive Director
Spectrum Juvenile Justice Services
Corporate Compliance Policy
CORPORATE COMPLIANCE POLICY
Spectrum is committed to maintaining the highest level of professional and ethical standards in the conduct of its business. The Agency places the highest importance upon its reputation for honesty, integrity and high ethical standards. Our Corporate Compliance Policy is a reaffirmation of the importance of this commitment as well as the Agency's ongoing commitment to educating its employees and other stakeholders on ethical codes of conduct. Our Corporate Compliance Policy is a comprehensive and formal policy designed to prevent, detect and respond to violations of corporate policies. Click
here
to view the policy.
CORPORATE COMPLIANCE PROGRAM
Spectrum Corporate Compliance Program is under the direction of the Chief Compliance Officer, who reports to the President and Chief Executive Officer. The Corporate Compliance Committee is a committee comprised of the Corporate Compliance Officers designated from Spectrum's affiliated companies. The Corporate Compliance Committee is responsible for operating and monitoring the Corporate Compliance Program and initiating any actions to correct problems encountered.
DUTY TO REPORT
All employees are required to report acts of non-compliance to the Corporate Compliance Officer. Any employee found to have known of such acts, but who failed to report them will be subject to discipline. Common Corporate Compliance issues include: violations of professional standards of practice or business ethics, fraud, theft or misuse of assets, improper lobbying/political activities, inaccurate billing, environment, health or safety issues and/or conflicts of interest.
NON-RETALIATION POLICY
Our policy prohibits intimidation or retaliation against employees who report a compliance concern in good faith or participate in good faith in any investigation or other proceeding related to such a report. Any employee of Spectrum who attempts to retaliate against another who in good faith reported a compliance issue will be subject to disciplinary action, up to and including termination if appropriate.
ANONYMITY AND CONFIDENTIALITY
When you report a violation, you may do so anonymously. You do not have to give your name. However, if you decide not to provide this information, we may not be able to investigate the matter fully or take appropriate action. When you choose to give your name, all issues you submit will be treated as confidentially as possible. This means your name will be shared only on a "need to know" basis.
REPORTING CONCERNS AND COMPLAINTS
There are three methods in which you may report a violation:
A 24 hour telephone message reporting line has been established for employees. This is an outside line without the capability of identifying a caller's telephone number.
Message Reporting Line: (734) 367-6780
Please be advised that when you call the hotline, you will be asked to leave a voice-mail message that provides enough information to initiate an investigation. Please be as specific as possible. If you do not provide specific names, dates, times, locations, and issue-specific facts we may be unable to conduct a full investigation of the issue. Please click here to view the complaint form to ensure you are providing the necessary information in your message.

You may mail a completed complaint form to:
Chief Corporate Compliance Officer
c/o Spectrum Human Services, Inc.
28303 Joy Road
Westland, MI 48185

You may email a completed complaint form to: corporate.compliance@spectrumhuman.org

INVESTIGATIONS/RESOLUTIONS
The Corporate Compliance Officer will review reports of possible violations to determine the appropriate action to be taken. The action taken shall be designed to ensure that the specific issue is addressed and, to the extent possible, that similar problems do not occur in other departments or areas or recur in the original area.
Click here for
Compliance Organization Chart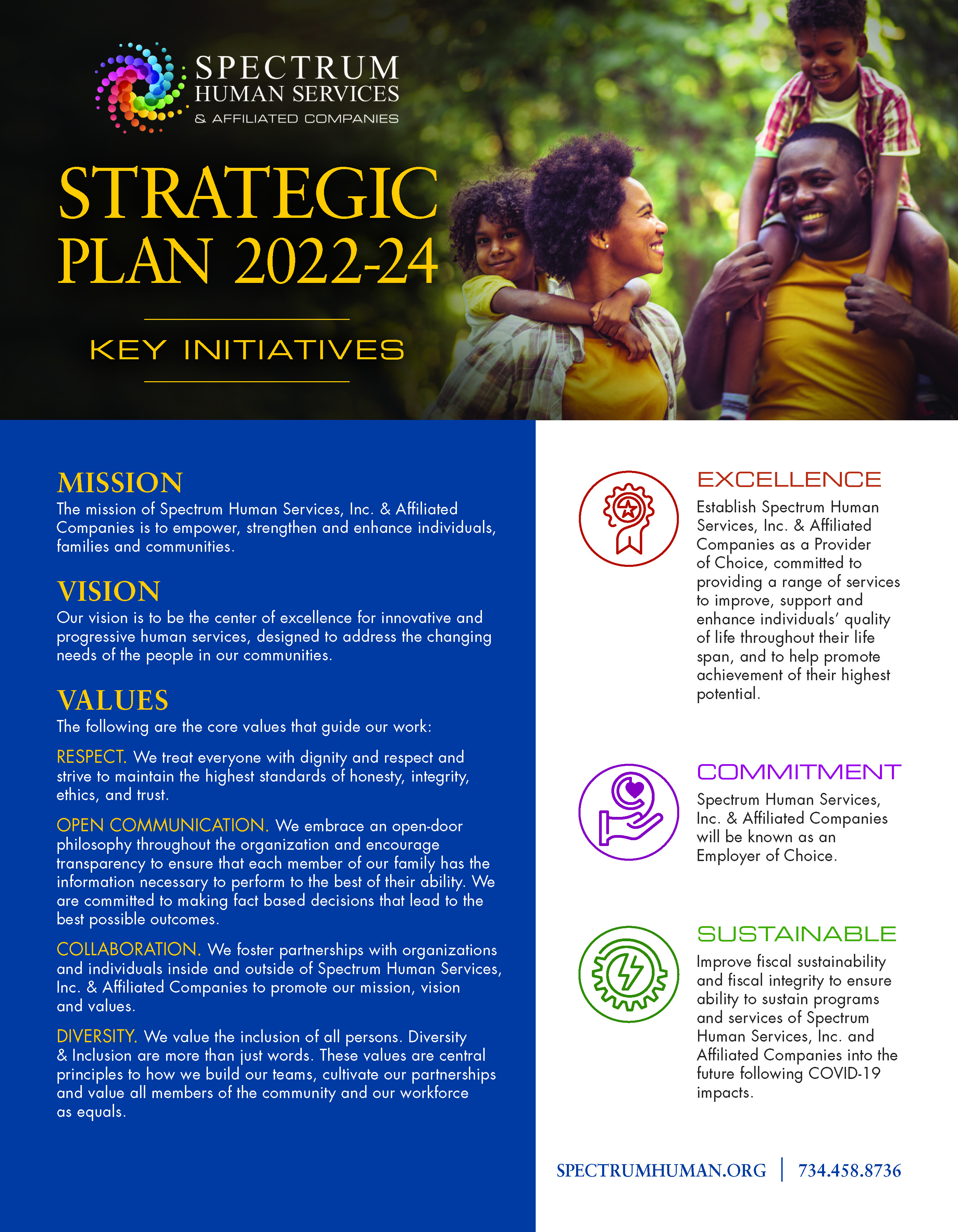 Privacy Practices
A copy of our Notice of Privacy Practices is available
here
© 2023 Spectrum Human Services, Inc. & Affiliated companies. All Rights Reserved.