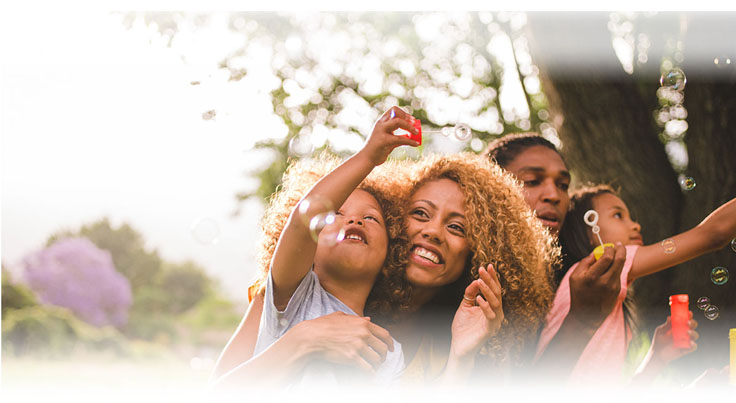 What We Do
Spectrum Child and Family Services (SCFS) concentrates on child welfare and provides a wide array of services to children, youth and families living in Genesee, Livingston, Macomb, Oakland, Wayne and Washtenaw counties. We serve children and teens that are delinquent, have been neglected/abused or abandoned; are medically fragile, multiple handicapped, dually diagnosed and behaviorally and/or emotionally impaired. Our holistic and trauma informed service delivery ensures that mental, physical and emotional needs are met.
The overall goal of Spectrum is to improve the lives of children by strengthening and empowering the family unit to become self-sufficient, stable and competent. Spectrum offers a wide range of programs and services that encompass the needs of an individual from birth to age 21. This broad continuum of care allows Spectrum to custom fit program services to better meet the individual along with the unique needs of the child and family unit. We recognize that in serving children, youth and families, we are assisting a population whose needs are constantly evolving and have tailored our programs to respond to those ever-changing needs.
Affiliations
Associations of Accredited Child and Family Agencies
The Alliance for Strong Families and Communities
Michigan Home Based Association


Mission and Vision
Our mission
To provide children & families with outcome driven services, that empower, enhance permanency, safety and promotes stability.

Our vision
Our vision is for Spectrum Child & Family Services to be the leader in the community known for exemplary programming that protects, advocates, treats and educates the consumers we serve & excellence in training, mentoring & development of the individuals we employ.

Stacie Bowens, MSW
Executive Director


Tajuanda Carey, MA
Director
Outreach & Residential Services

Crossroads Building
Janice Black Moore
Family Support Services Division Director
16250 Northland Drive, Suite 250
Southfield, MI 48075
Phone: (248) 552-8020
Fax: (248) 552-1135

New Center One Office
Genise High, MA, LLPC, CAADC, CPC, CSS
Community Based & Substance Abuse Services Director
3031 W. Grand Blvd. Suite 370
Detroit, MI 48202
Phone: (313) 456-6000
Fax: (313) 935-9311

Flint Office
Randal Martin, MS
Outreach Services Associate Director
711 N. Saginaw Street, Suite 104
Flint, MI 48503
Phone: (810) 410-1935
Fax: (810) 238-3757

Creating successes
Jasmine's Success
16-year-old Jasmine had emotional and behavioral problems, some of which stemmed from being sexually abused by a relative as a child. She didn't cope well and was anti-social. She ran away from home, started using drugs, hung out with peers who broke the law and was truant from school.
Jasmine landed in our Home Based Services program where she initially resisted help. As she became more familiar with the program, however, she opened up to the possibilities and staff members. She turned her life around.
She went back to school and worked hard to achieve a 3.0 GPA, remained drug/alcohol free and focused on larger goals for her life.
The Price Family's Success
The Price children were reunited with their mother after 14 months in foster care, but they still needed help addressing the issues that separated them in the first place. Our Wraparound Program of Child and Family Services helped the Price family find housing, furnishings, counseling and psychological services that have stabilized those issues.
Join the Team
Our mission is to empower, strengthen and enhance individuals, families and communities.
If you are passionate about changing the lives of children, families or people with more profound needs, Spectrum offers a variety of experiences in human services. You are taking an important step toward making a difference.
Through our portal, you will be able to create a profile and explore a variety of careers serving people directly or supporting those that do through professional and administrative support positions. Spectrum provides great opportunities for training, professional growth and advancement. Through the candidate portal, you can attach your resume' for future reference for other opportunities as well.
Spectrum Human Services Inc. & Affiliated Companies strives to be the Employer of Choice. In addition to competitive wages, full-time employees are eligible for an array of benefits, including: health insurance, dental, vision, life insurance, short-term disability, and participation in the company's 403(b) program.
It is the policy of Spectrum Human Services to provide equal employment opportunity (EEO) to all persons regardless of age, color, national origin, citizenship status, physical or mental disability, race, religion, creed, gender, sex, sexual orientation, gender identity and/or expression, marital status, genetic information, status with regard to public assistance, veteran status, or any other characteristic protected by federal, state or local law. In addition, Spectrum will provide reasonable accommodations for qualified individuals with disabilities.
Note: This opens in a new window
© 2023 Spectrum Human Services, Inc. & Affiliated companies. All Rights Reserved.