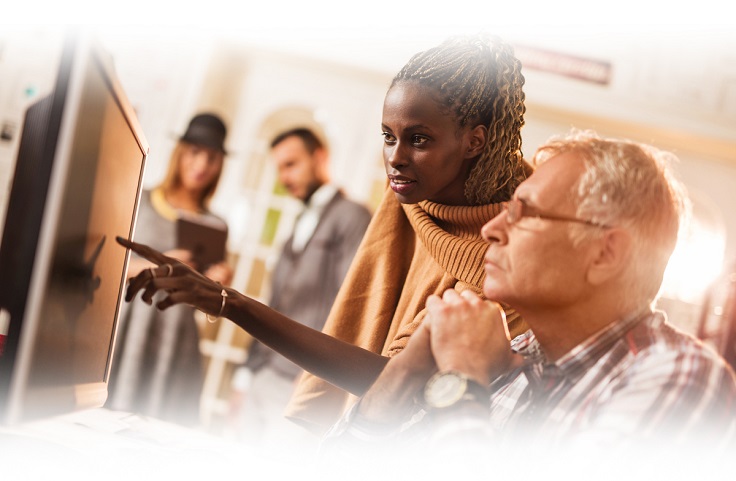 What We Do
Operation ABLE of Michigan helps adults find employment via personalized searches, job placement, occupational training and career transition services. Our special niche is helping adults at midcareer and beyond. We are committed to the ideal that ability is ageless.
As a result, we also help the employer community develop and sustain access to a competent workforce in our region.
Mission and Vision
Our mission
To provide market responsive programs to meet the employment and financial stability needs of mature individuals and other special populations along their career paths, to promote lifelong learning among individuals, businesses and government and to assist the employer community in developing a competent workforce.

Our vision
A society in which there are opportunities for people of all ages and backgrounds to develop and use their talent and skills in ways that add to their quality of life, contribute to their communities and provide for their individual and family financial stability.
Administration
Administrative Office
4750 Woodward, Suite 201
Detroit, MI 48201
Phone: (313) 832-0922
Fax: (313) 832-4925
ability@operationable.org
Operation ABLE is located in Detroit in the Hannan House on Woodward between Forest and Warren Avenues in the heart of the city's Midtown.
Join the Team
Our mission is to empower, strengthen and enhance individuals, families and communities.
If you are passionate about changing the lives of children, families or people with more profound needs, Spectrum offers a variety of experiences in human services. You are taking an important step toward making a difference.
Through our portal, you will be able to create a profile and explore a variety of careers serving people directly or supporting those that do through professional and administrative support positions. Spectrum provides great opportunities for training, professional growth and advancement. Through the candidate portal, you can attach your resume' for future reference for other opportunities as well.
Spectrum Human Services Inc. & Affiliated Companies strives to be the Employer of Choice. In addition to competitive wages, full-time employees are eligible for an array of benefits, including: health insurance, dental, vision, life insurance, short-term disability, and participation in the company's 403(b) program.
It is the policy of Spectrum Human Services to provide equal employment opportunity (EEO) to all persons regardless of age, color, national origin, citizenship status, physical or mental disability, race, religion, creed, gender, sex, sexual orientation, gender identity and/or expression, marital status, genetic information, status with regard to public assistance, veteran status, or any other characteristic protected by federal, state or local law. In addition, Spectrum will provide reasonable accommodations for qualified individuals with disabilities.
Note: This opens in a new window
Creating successes
Anetha Walker's Success
Ms. Walker came to Operation ABLE after being laid off from the Lawton Career Institute where she had worked for 23 years. She had worked her way up from a Telemarketer to her final position, Director of Student Services. Anetha says that when the school closed she was devastated and knew that she would have to "re-invent herself". Comparable positions in the industry required a master's degree and she did not have the time or resources to pursue that avenue. Looking through the materials she had for her students, Anetha found a flyer about Operation ABLE and came to an information session. Right away she was relieved to find that she was not alone in having to start over in mid-career, develop new skills and find creative ways to live on reduced financial resources. The other clients became a mutual support group and the staff helped her explore various aspects of her situation.
Anetha took advantage of the computer classes, financial coaching, employability workshops and job club. In January, staff approached her about enrolling in a Weatherization Energy Auditing job training being offered by an agency in the building. The training was very technical and strenuous but sounded intriguing to her. In preparing for the technical aspect, Aretha participated in ABLE's Bridge program to build up her math skills. She did great in the course and earned a number of certifications including: "Weatherization Installer Technician" through the US Department of Energy, an "OSHA General Industry Safety and Health" Certificate and an "Asbestos and Mold Awareness" Certificate.
Following training, she was hired as an Environmental Energy Coordinator with Detroiters Working for Environmental Justice and DTE Energy. She is excited about this new career path – one she had never imagined. Her advice to other midcareer adults is: "Be open to opportunities that could take you in a whole new direction. These are exciting times for those of us willing to invest in our potential. I did it, so can you."
Omari Gill's Success
Omari Gill is a 41 year-old man, referred to us for Culinary Arts training from Detroit Employment Solutions Corporation. Omari was an enthusiastic student from the beginning. Earlier in his life he had made some choices that led to incarceration. When he came to ABLE, he was ready for a fresh start in a field that he loves – the restaurant industry. He applied himself fully to the training and to the other resources available through Operation ABLE's Center for Working Families. He set some things in place that improved his credit score, he tapped into new resources and he quickly earned his culinary credentials, including ServSafe Manager.
Wanting a challenging job, he accepted a position at Maggiano's restaurant in Troy, where he has been for almost nine months. Omari has been given the opportunity to learn a variety of roles there and loves what he is doing. Someday, Omari plans to own his own restaurant. At this point, he wants to continue to grow in his profession, to support and be there for his family and to be a first time home owner. Omari's family is proud of him and so are his colleagues at ABLE. He is an example to others who want to turn their lives around.
© 2023 Spectrum Human Services, Inc. & Affiliated companies. All Rights Reserved.