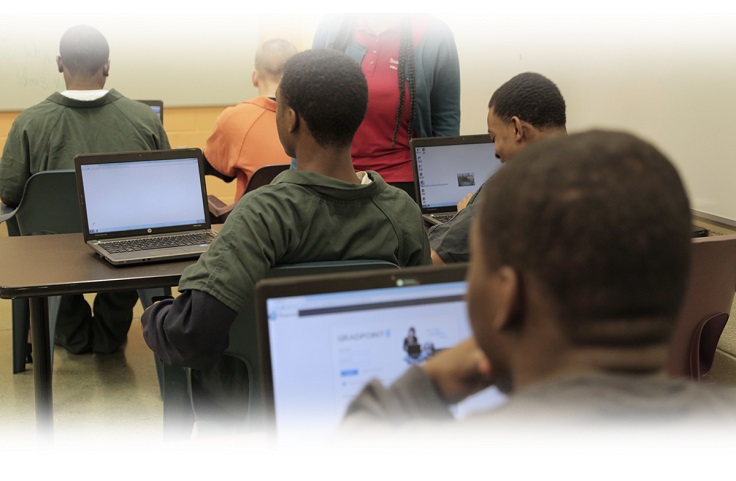 What We Do
Our comprehensive services are designed to meet the equally comprehensive range of social, emotional, behavioral, developmental and educational needs of the youth, to achieve our mission of rehabilitation. SJJS utilizes the Forward Focused Treatment Model©, the first empirically-guided clinical treatment program developed specifically for adolescents with serious offending behaviors. The model uses evidence-based practices including cognitive behavioral therapy and trauma-focused interventions, based on adolescent brain development research.
Treatment is guided by a developmentally-informed conceptualization of the youth's risks and needs, and utilizes a multi-modal and multi-pronged approach to treatment, and includes the treatment of co-occurring trauma & substance use disorders. Additional modalities are incorporated to establish individualized goals, through person-centered planning. Each youth's length of treatment and subsequent release from the program is based on each youth's previous life experience, world view, behavioral problems, learning ability and individual motivation to change.
Treatment is specifically designed to prevent recurring involvement with the legal system, promote prosocial development, and promote long-term successful life outcomes. Therapeutic services for each youth include weekly individual therapy, group therapy, family therapy and additional trauma-focused services.
Additional psychoeducational services including aggression reduction therapy, social living skills groups, independent living courses, yoga, culinary training and community mentorship services are also provided. Residents are also provided access to non-denominational religious services, on-site medical, dental and psychiatric services. Our services are provided in a highly structured, intensively supervised group and individual treatment milieu.
Educational services are provided twelve months a year in a structured, campus based environment. Ace Academy, chartered by Central Michigan University, offers a standard curriculum for grades 6-12, as mandated by the Michigan Department of Education. Course offerings include English, Math, Science, Spanish and Physical Education. All residents attend classes Monday through Friday from 7:30 a.m. - 2:00 p.m. All students take the Michigan Educational Assessment Program (MEAP) Test, and eligible students may take the Michigan Merit Exam.
Balanced and Restorative Justice (BARJ) principles are infused throughout the treatment program to help the youth repair victim harm and reduce community risk. Our daily activity program structure is based upon a merit system (token economy), which incorporates Behavior Modification techniques that reinforce our therapeutic approaches which assist the youth in developing prosocial skills, personal responsibility, social accountability and positive habit-forming techniques. Reintegration services including family therapy and supported family involvement.
Affiliations
Alliance for Children & Families
American Correctional Association
Commission on Accreditation of Rehabilitation Facilities (CARF)
National Juvenile Detention Association

Prison Rape Elimination Act (PREA)
Zero Tolerance for Sexual Abuse and/or Assault
Spectrum Juvenile Justice Services has zero tolerance for sexual abuse and/or assault of individuals residing in our treatment and detention facilities. For more information, please see our policy.
PREA Compliance
As demonstrated by our federal PREA audit, Spectrum is fully compliant with the Prison Rape Elimination Act. This latest finding further reinforces our commitment to protecting those we serve. Please see the results of our most recent PREA Audits of Lincoln Center and Calumet Center.
PREA Audit Annual Report for SJJS 2020
PREA Audit Final Report for Lincoln Center 2020
PREA Audit Final Report for Calumet Center 2018
2018 SJJS annual PREA data report
Mission and Vision
Our mission
Rehabilitate chronically delinquent youthful offenders.

Our vision
Utilize our six specialized treatment programs to provide long-term therapeutic services to meet the needs of chronic offenders, substance abusers, sex offenders, violent offenders and delinquent youth with specialized learning needs (cognitive deficits) and delinquent youth with severe emotional disturbances.
Administration
Joshua J. Swaninger
President and CEO
Spectrum Human Services, Inc. & Affiliated Companies

Lauren Skinner, LPC
Clinical Director

Administrative Office
1961 Lincoln
Highland Park, MI 48203
Phone: (313) 868-8310
Fax: (313) 865-2892
Admissions: (313) 868-8390
[email protected]
Lincoln Center
Oliver Cooper Jr., Center Director
1961 Lincoln
Highland Park, MI 48203
Phone: (313) 868-8310
Fax: (313) 865-2892
Calumet Treatment Center
Kirpheous Stewart, Center Director
330 Glendale
Highland Park, MI 48203
Phone: (313) 852-7500

Join the Team
Our mission is to empower, strengthen and enhance individuals, families and communities.
If you are passionate about changing the lives of children, families or people with more profound needs, Spectrum offers a variety of experiences in human services. You are taking an important step toward making a difference.
Through our portal, you will be able to create a profile and explore a variety of careers serving people directly or supporting those that do through professional and administrative support positions. Spectrum provides great opportunities for training, professional growth and advancement. Through the candidate portal, you can attach your resume' for future reference for other opportunities as well.
Spectrum Human Services Inc. & Affiliated Companies strives to be the Employer of Choice. In addition to competitive wages, full-time employees are eligible for an array of benefits, including: health insurance, dental, vision, life insurance, short-term disability, and participation in the company's 403(b) program.
It is the policy of Spectrum Human Services to provide equal employment opportunity (EEO) to all persons regardless of age, color, national origin, citizenship status, physical or mental disability, race, religion, creed, gender, sex, sexual orientation, gender identity and/or expression, marital status, genetic information, status with regard to public assistance, veteran status, or any other characteristic protected by federal, state or local law. In addition, Spectrum will provide reasonable accommodations for qualified individuals with disabilities.
Note: This opens in a new window
© 2021 Spectrum Human Services, Inc. & Affiliated companies. All Rights Reserved.