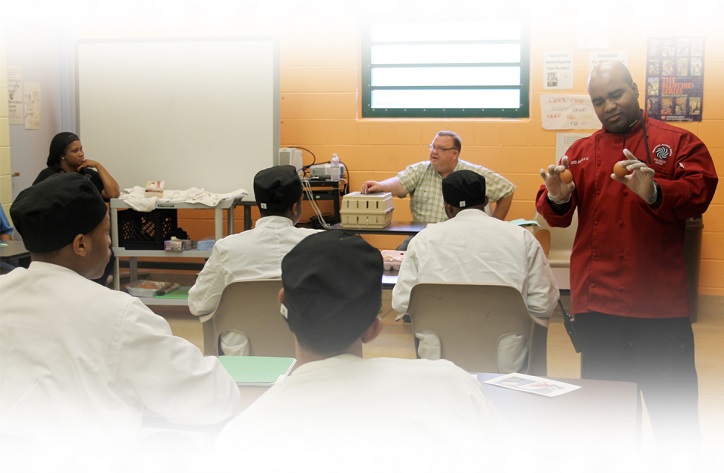 Providing Residental and Short Term Treatment
Secure Residential Treatment Programs
Spectrum Juvenile Justice Services provides intensive specialized therapeutic residential treatment programs at the Calumet and Lincoln Centers in Highland Park, Michigan. This treatment program is for juvenile sex offenders, chronic high-risk juvenile offenders and juvenile offenders with acute substance abuse behaviors. These services are provided for male youth, ages 11 to 20.
To earn a successful release, youth enrolled in the programs must complete seven intensive cognitive behavioral treatment stages, designed to change criminal thinking and delinquent behavior. The programs are intended for chronic offenders, and as such, programming is individualized and indeterminate in length. Each treatment phase is comprised of an extensive list of personal milestones, designed specifically for each youth. Typically, treatment lasts from 12-14 months, however, graduation from the program is based on each individual's motivation and extent of previous criminal socialization.
Each individualized treatment program is based in cognitive restructuring theory and each program uses cognitive behavioral techniques in treatment groups, family therapy, anger management and individualized treatment tasking. The individualized treatment plans are tailored to meet the clinical needs and community risk management needs of each youth. Clinical staff continually modify and update these individualized treatment plans in order to ensure that each negative behavior is being remedied and that positive strengths and values and self governing controls are being internalized.
All treatment services are delivered under the supervision of appropriately licensed graduate degreed staff. Residents are also taught social living skills and independent living skills. New positive behaviors are reinforced through the use of a Merit System and group process. Residents must also complete a Balance and Restorative Justice (BARJ) project prior to earning a release from treatment. All youth are enrolled in an individualized educational program appropriate to their needs.
Short Term Detention Services
Spectrum Juvenile Justice Services (SJJS) provides juvenile detention services at the Calumet Center in Highland Park, Michigan.
The primary objective of the detention program is to offer a safe, secure, highly structured and stable environment for youth awaiting hearings and transitioning between placements. The program, although short-term, is designed to offer educational and assessment services, crisis intervention and counseling services, medical services and youth advocacy services.
The detention program functions as a secure transitional placement that helps bridge the youth's movement between the juvenile and/or adult court systems and the Wayne County Department of Children and Family Services (CAFS)/Care Management Organization.
Service delivery is targeted for accomplishment within 30 days, but in some instances, youth are remanded longer due to normal delays in judicial processing, waiting lists for pending placement and special needs placement exceptions that occur in the referral and placement sequence.
An Evidence-Based Treatment Program
Spectrum Juvenile Justice Services (SJJS) defies the common "revolving door" misconception of correctional systems by addressing the core issues that drive criminal behavior. As research shows, compliance-based programs do not effectively minimize recidivism, empower sustainable long-term changes or provide a foundation for upward educational and social mobility.
The SJJS treatment program uses a holistic, developmentally appropriate framework based on the philosophy that criminal thinking and behavior is a result of a unique, personal or family situation. While the treatment program promotes compliance with rules and expectations, the SJJS treatment model is clinically designed to help young people make the necessary internal improvements to sustain positive change, long term. At SJJS, we are working to create real, positive change for our residents and the greater community.
Long-Term Rehabilitation vs. Short-Term Modification
The 12- to 16-month treatment program at Spectrum Juvenile Justice Services (SJJS) provides long-term therapeutic services to treat the needs of adjudicated youth from ages 11 - 20. SJJS uses The Forward Focused Model© (FFM)—a dynamic, developmentally-appropriate treatment program designed to help identify and address prior history of criminal behaviors, negative thinking and past traumatic experiences—to build new, healthy coping skills, emotional regulation strategies, and healthy thinking patterns that will help them return to their community successfully. The SJJS treatment model integrates Cognitive Behavioral Therapy (CBT), Rational Emotive Behavioral (REBT) and Trauma-Focused CBT to help residents identify and change their destructive and criminal thinking patterns.
An Environment That Builds Community
At SJJS, our multidisciplinary team approach is used to provide residents with a network of support and includes everyone with whom they have contact during their treatment. Security personnel are as much a part of the therapeutic environment as educators and facilitators. At least 120 hours of annual training is required for all staff to continually improve skills and complement programming. The Group Stages of Development, Cultural Competency, Behavior Modification, Trauma Informed Therapy, Cognitive Behavior Therapy, Verbal De-escalation, Social Living Skills and other programs help staff better support our residents. Security plays a critical role in our program's success by demonstrating a consistent tone for enhancing a culture of positivity. Both SJJS facilities are designed and constructed to meet the specifications of the Michigan Licensing Rules for Child Caring Institutions. Calumet Center has been licensed and in operation for 15 years and our Lincoln Center for 7 years. SJJS uses security technology to provide high-security facilities that minimize opportunities for escape, self-injury and suicide. Small pod sizes accommodate the structured separation of juveniles with different diagnoses, risk levels, service needs and aggressive or passive behavioral patterns. The facility is designed to support continuous staff line-of-sight supervision of residents. Both SJJS facilities are fully self-contained with space for educational services, indoor recreation, individual and group therapy, medical care, hygiene, dining, maintenance, staff offices, visitation and a secure intake area. A gymnasium and secure outside recreation space are also provided.
Providing Treatment Step by Step
Through seven stages of treatment, residents are guided along the process of self-discovery and transformation. Through the stages of therapy, residents are able to build on personal knowledge gained from previous stages and explore how personal life experiences played a part in shaping their thinking errors and delinquent behaviors. Hands on, experiential therapeutic activities and Balanced and Restorative Justice (BARJ) principles are infused throughout the treatment program. Each stage of treatment has an individually designed BARJ component that must be mastered before progressing. This enables residents to understand and repair the harm they have caused.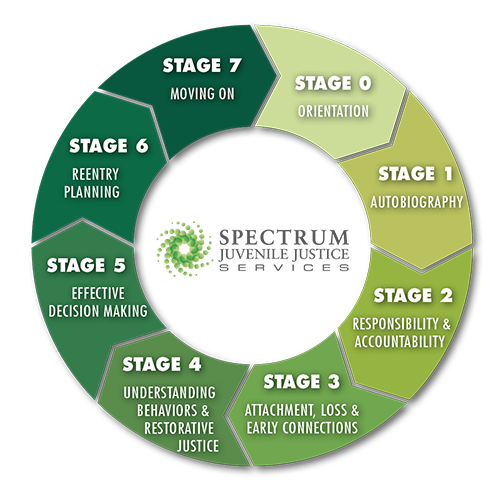 Specialized Treatment Programs
CHRONIC VIOLENT OFFENDER TREATMENT
ADOLESCENT SEX OFFENDER TREATMENT
SPECIAL LEARNERS TREATMENT PROGRAM (SLTP)
SPECIALIZED SUBSTANCE ABUSE TREATMENT
Educational Services
Ace Academy Standard Curriculum For Grades 6-12
ANGER MANAGEMENT/AGGRESSION REDUCTION THERAPY
SOCIAL LIVING SKILLS AND LIFE MANAGEMENT TRAINING
SPIRITUAL SERVICES AVAILABLE TO ALL RESIDENTS
YOGA CLASSES
CULINARY ARTS COURSES & TRAINING
© 2021 Spectrum Human Services, Inc. & Affiliated companies. All Rights Reserved.